4:00 pm
Eine Stadt von morgen / A city of tomorrow
Literary competition
Awards & Readings
Jury statement and awards ceremony: • Gustav Ernst
Readings by the Prizewinners:
1st place: • Judith Wald: Morgen werden wir es besser machen! (Tomorrow we will do better!)
2nd  place: • Sarah Burghart: Eine Stadt, wie auch immer du sie dir vorstellst (A city however imagined by you)
3rd  place: • Esther Neuhofer: Verklärte Stadt (Blissful city)
For the fourth time running, the International Literary Festival Erich Fried has hosted an Austria-wide literary competition. Pre-university level students between the ages of 14 and 20 were invited to participate.  The three best texts were chosen from numerous entries by an expert jury:
• Robert Huez, director of the Literaturhaus Vienna, • Gustav Ernst, author and editor of the literary journal kolik, and • Zita Bereuter, director of the literature program at the Austrian public radio station FM4 and organizer of the short story competition Wortlaut.
6:00 pm
Caleb Azumah Nelson: "Open Water"
Austrian book premiere
Love made you Black

Reading & Discussion
• Caleb Azumah Nelson (GB, Ghana): Open Water (Viking Press 2021) | Freischwimmen, trans. Nicolai von Schweder-Schreiner (Kampa 2021)
Moderation: • Florian Baranyi (culture journalist and critic)
An "unforgettable debut" (New York Times), "beautifully told" (Observer), "hands down the best debut I've read in years" (The Times)—these are just some of the accolades with which Caleb Azumah Nelson's first novel has been celebrated.
The multicultural metropolis of London is the background of the British-Ghanaian author's love story between a nameless photographer and a dancer. Both are Black, and very quickly the lightness of first love is overshadowed by the tenacious and deep-rooted racism in postcolonial British society. Caleb Azumah Nelson's striking prose explores how identity, discrimination, and oppression conflict with the artistic expression and individuality of his protagonists.
Event in English
8:00 pm
László Krasznahorkai: "Herscht 07769"
Viennese book premiere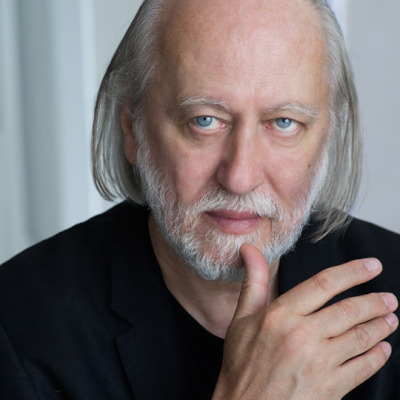 Hope is a mistake

Reading & Discussion
• László Krasznahorkai (Hungary): Herscht 07769, trans. Heike Flemming (S. Fischer 2021)
Moderation: • Hans-Jürgen Balmes (editor, publisher, and translator)
Four hundred pages of hopelessness, a never-ending one-sentence abyss—the main character of László Krasznahorkai's new novel doesn't have it easy. Florian Herscht, who is somewhat simple-minded and naïve, lives in the fictitious town of Kana (zip code 07769) near Jena in former East Germany, from where he writes letters to Federal Chancellor Angela Merkel, whom he hopes will save the world, which he believes is in danger. A trained baker and recipient of social welfare, Herscht makes a living working under the table for the neo-Nazi "boss" of the local cleaning company. Around them, a Breughel-like panorama of more and less bizarre figures populates the Thuringian town. Slowly, Herscht's world spins out of control and when wolves appear at the edge of the forest, the apocalypse has truly come one step closer …
Reading in Hungarian with German supertitles | Discussion in German
Literaturhaus Wien
Zieglergasse 26a, 1070 Wien